Our products / Inforad Motorbike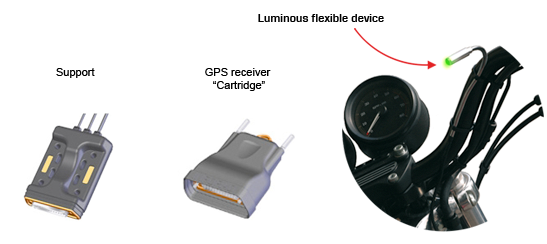 INFORAD Moto, what is it?
INFORAD Moto is a GPS alarm for risk zones specially developed for the motorcycle world.
Like our car product, its purpose is to warn the driver in real time of a nearby risk zone in order to avoid excessive and dangerous braking due to the driver's surprise.
INFORAD is reliable and effective.
Thanks to the GPS* system*, INFORAD Moto constantly knows your vehicle's position and its processor compares this position with risk zones contained in its database. As soon as you enter a dangerous zone, controlled by a radar or not, INFORAD tells you immediately using simple and understandable warning lights and sound signals.
Contrary to the car, the motorcycle environment creates climatic, installation and discretion constraints. INFORAD Moto\'s design takes these different constraints into account. As such, the product is divided into two parts:
a fixed part, installed on the vehicle that we call the "Support"
a removable part that contains the essential electronics and that connects to the support, which we call the "Cartridge."
The decision to create two distinct parts was driven by the need to make it easy to mount and remove the GPS part to update the database of risk zones contained in the device's memory without having to disassemble the entire system.
Copyright © 2005 - 2023 INFORAD. All rights reserved.