Our products / Inforad Car K1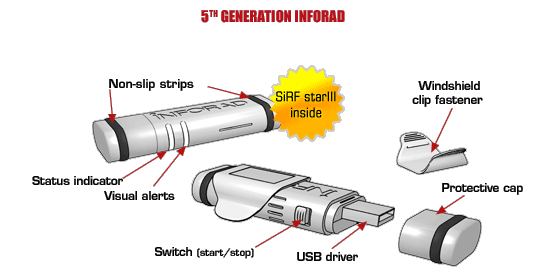 Miniaturised Power


Mini-sized (USB drive) but maximum technology (SiRFstarIII inside)
Mini-price but maximum compatibility (integrated battery, compatibility with all vehicles)
No bigger than an USB driver, (2 cm x 7 cm x 1.5 cm), the new K1 integrates the best GPS technology, notably the latest generation of the famous GPS SiRFstarIII processor, as well as a battery, giving it total autonomy and power worthy of the best GPS on the market.
Linea Rossa: Elegance and legality
With the appearance of a black USB drive with a red stripe across each end, the K1 is the first in a new line of products called "Linea Rossa by Inforad," created to be identified at first glance and to offer security for the forces of order.

The technique: the new K1 naturally inherits of all INFORAD's technological savoir faire.
The latest generation GPS SiRFstarIII processor
Integrated battery that allows autonomy for up to 5 hours
No installation required and very quick start-up
Visual and audio alarms
Wireless and totally independent
INFORAD K1: the perfect nomad
K1's small size allows it to be easily positioned in unobtrusive areas on any windshield, most often under the visor (clip supplied). In this way, its performance is always optimal, no matter which vehicle is used. To date, the K1 is the only GPS radar alert compatible with all vehicles.
INFORAD Auto K1 in practice
INFORAD signals the presence of fixed radar and risk areas

An indispensable partner for any driver, this small box placed on your dashboard or windshield will help you avoid speeding and reinforce your safety, all while keeping you from getting points on your driver's license.
INFORAD is safe and efficient
Thanks to the GPS* system, INFORAD always knows where your vehicle is, and its processor compares this position with the risk areas contained in its database. As soon as you cross into a dangerous area, whether or not there is radar detected, INFORAD immediately alerts you through its simple and easily understandable light-up and audio signals.
INFORAD is also a true GPS*
Thanks to its NMEA-0183 v2.0 compatibility, INFORAD, once connected to a computer through the cable supplied, allows you to use navigation software like Autoroute Express™, TomTom Navigator™, Route 66™, etc.... while continuing to protect you efficiently.
Other information about INFORAD K1

Easy positioning on the windshield thanks to the "Clip & Go®" system
The only GPS radar alert compatible with all vehicles
Free updates for life (PC + Internet connection)
Free subscription to updates
2-year factory warrantee
A pilot software, INFORAD MANAGER was conceived specifically to use K1's capabilities as efficiently as possible. Most notably, it integrates a function that is unique for this type of product: an interactive learning area to help users to better learn how to use their K1.
NOTE: as for all INFORADs, adjustments and updates are done by an Inforad Manager software intermediary.Consequently, please uninstall the old version of Inforad Manager from your PC before using INFORAD K1.
* GPS (Global Positioning System): a network of satellites emitting a signal that allows a GPS receiver to specify, with extreme precision, the position, speed, and altitude of a vehicle
Copyright © 2005 - 2023 INFORAD. All rights reserved.